What Fill is Best for You? | Buying The Perfect Pillow | Finding the Right Comforter
Down and down-alternative comforters give you the option to select the level of warmth you'd like, based on the climate you live in and your personal preference. Light, fluffy down clusters expand and intertwine to create pockets of air, which provide insulation and warmth.
To determine the type of comforter you'd like, you'll want to take fill power into consideration. Fill power is determined by how many cubic inches 1 ounce of down occupies. 500 cubic inches per ounce, 700 inches per ounce, etc. The higher the fill power the more warmth you get with less weight. Our comforters are rated by fill power and weight in an easy to use scale. A lighter weight comforter will be marked 'Lightweight', while our warmest options will be marked 'Winter'.
Along with down or down alternative fills, we also have different constructions for comforters. To keep fill from shifting, many comforters employ baffling; an open construction that uses extra vertical fabric to connect the top layer to the bottom layer for additional loft. We have also created a PermaBaffle™ construction which has special flaps between boxes to ensure no fill will shift. There is also sewn-through construction. These comforters have horizontal and vertical stitches in the top and bottom layers to create individual compartments that keep fill from clumping or shifting.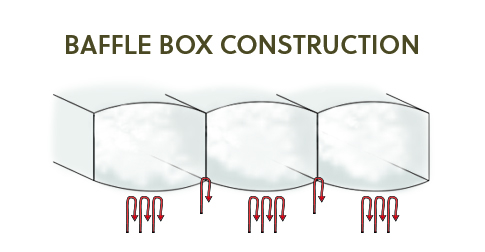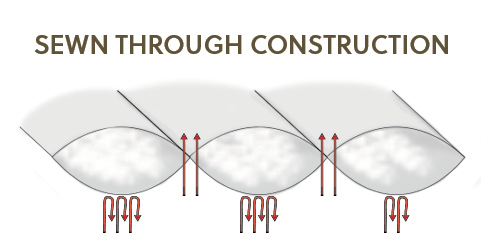 The final choice to think about for your comforter is the size. Besides the typical twin, full, queen and king, we offer oversized options for queen and king. This allows extra draping (and less tug-of-war). Along with everything else, everyone has their own preference, but below are some general size differences between a regular and oversized option.
Oversized Queen: 90" x 98"
Oversized King: 108" x 98"