What Fill is Best for You? | Buying The Perfect Pillow | Finding the Right Comforter
At DOWNLITE, we use 3 different types of hypoallergenic fills in our bedding: down, feather, and down alternative.
Down is the light fluffy coating beneath the feathers of ducks and geese. Each down cluster is made from thousands of tiny fibers, like little cotton balls between the bird's skin and feathers. Ounce per ounce down is the most efficient insulator for bedding products. It is not only lighter weight, but also has the unique ability to "breathe" allowing excess heat and humidity to escape and allowing you to reach an ideal temperature. Down clusters are naturally very durable, it is not uncommon for people to use a down bedding item for a dozen years or more before replacing it. Down is also naturally flame retardant, making it an excellent choice for safe sleeping.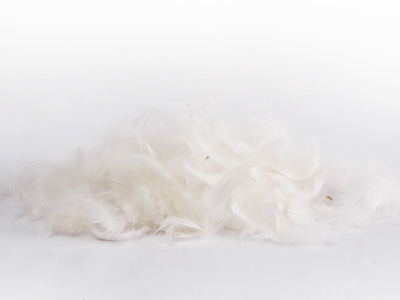 Feather is the outer coating of protection for ducks and geese. Products containing feather will be heavier than down, but also offers more support. At DOWNLITE, we only use feather in pillows and feather beds. A comforter filled with feather would feel quite heavy, and wouldn't offer the same insulation as down.
Not everyone wants bedding with natural fills of down or feather. For this reason, we also make a down alternative fill. Down Alternatives are polyester fibers. Polyesters can be vary from the size of the fiber, to whether it is single or multi hollow core; even topical treatments on the fibers can vary greatly. Below is a go-to list of the down alternatives we use.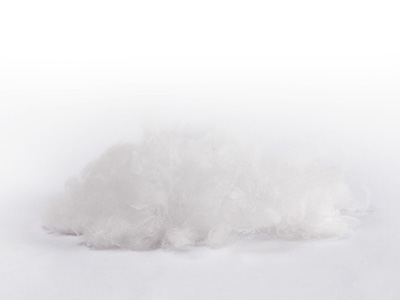 PrimaLoft® – A silky smooth microfiber blend featuring a permanent antimicrobial treatment in the fiber that won't wash out. PrimaLoft is the closest down alternative to white goose down. It is hydrophobic, meaning it does not absorb water, thus it is easier and quicker to dry. Used in products from pillows, comforters, mattress pads, and blankets.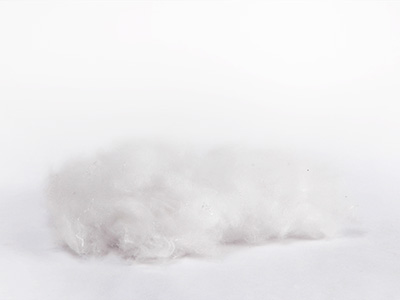 EnviroLoft® – This DOWNLITE exclusive fiber features a thicker strand of polyester. The thicker fibers offer added support and rigidity. This fill is popular for hospitality bedding due to its durability and price point. Used in products from pillows, comforters, and blankets.
Spira™ – Often called Cluster Puff, this fiber is made into balls and offers excellent durability and volume. Used in many hotel bed pillows.
Ultimate Goose Down Alternative™ – This DOWNLITE exclusive down alternative mimics the softness and loft of down. These silky fibers conform to your sleep position in pillows and allow great warmth and breathability in comforters. This down alternative fill is second only to Primaloft®.
LiquiLoft® – Gel-like fibers create a moldable pillow that will cradle your head and neck through the night.
Continuous Polyester Fiber – Raw polyester fiber is sent through a machine to 'open' and plump the fill. This creates a continuous sheet that is cut to size and rolled to create a firmer feeling pillow at a lower price point. This sheet can also be left flat for use in mattress pads, allowing comfort and support with no fill shifting.
Still have questions of what fill would work best for you? Contact us.